Justices of the Court
---
Associate Justice Saliann Scarpulla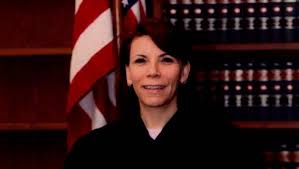 Justice Saliann Scarpulla is a graduate of Boston University and Brooklyn Law School, cum laude. After law school, Justice Scarpulla clerked for the Hon. Alvin F. Klein in Supreme Court, New York County. When her clerkship concluded, Justice Scarpulla joined Proskauer Rose Goetz & Mendelsohn as a litigation associate.
Justice Scarpulla then moved to the Federal Deposit Insurance Corporation as Senior Counsel in the New York Legal Services Office. From the FDIC Justice Scarpulla became Senior Vice President and Bank Counsel to Hudson United Bank.
Justice Scarpulla returned to the New York State court system in 1999, as Principal Court Attorney to the Hon. Eileen Bransten. She was then elected to the New York City Civil Court in 2001, appointed to the New York State Supreme Court in 2009, and elected to the Supreme Court in 2012. From February 2014 to July 2020, Justice Scarpulla sat in the New York County Commercial Division, and she was responsible for all international commercial arbitration matters pending in the New York State Supreme Court. In July 2020 Governor Cuomo appointed Justice Scarpulla to the Appellate Division, First Department. Justice
Scarpulla is a contributing author to the Commercial Litigation in New York State Courts treatise and has authored several articles on technology and commercial litigation. Justice Scarpulla is a frequent lecturer for, among others, the Association of the Bar of the City of New York, the New York County Lawyers Association, the New York State Bar Association, the American Bar Association, the Practicing Law Institute, and the New York State Judicial Institute.
Justice Scarpulla is active in several New York City and statewide bar associations and is a Business Court Representative to the American Bar Association. She is a member of New York's Commercial Division Advisory Council, and the Co-Chair of the Council's Subcommittee on Use of Technology in Commercial Division Cases. Justice Scarpulla also sits on the Chief Judge's Alternative Dispute Resolution Advisory Committee, and, in October 2019 Chief Judge DiFiore appointed Justice Scarpulla to the New York State Continuing Legal Education Board. Justice Scarpulla is a Board member and Co-President of Judges and Lawyers Breast Cancer Alert (JALBCA).