Only attorneys may borrow books, but anyone can use Lexis, Westlaw and HeinOnline while at the library.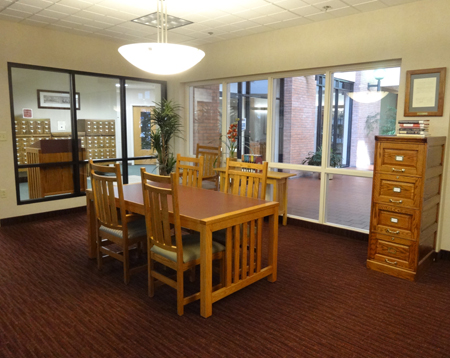 Dedicated to the memory of Justice M. Dolores Denman on May 21, 2003, the Women in the Law Collection was created to archive speeches, judicial decisions and other important documents from prominent women jurists along with relevant contemporary and historical books and periodicals. Its stated purpose is "to collect material and information including books, audio, videos, and artifacts that reflect the experiences, issues, concerns, observations, and history of women in the law." (David Voisinet, Library Director at the time of the dedication).
The dedication ceremony was held in the courthouse atrium, located just outside of the Women in the Law Room. It was attended by members of the Denman family as well as judges, court staff and members of the Greater Rochester Association for Women Attorneys (GRAWA). The idea for the collection originated with members of GRAWA, and they were instrumental in its establishment at the courthouse. During the ceremony, a limited-edition book on the life and writings of Justice Denman entitled Justice is a Woman was released. The book, authored by Law Librarian Maryanne Clark, received much praise from then Presiding Justice Eugene Pigott.
Housed in what has been described as the nicest room in the courthouse, the Women in the Law Room is a comfortable space for reading, research and small gatherings.
In addition to a collection of treatises and periodicals, the collection includes a small number of archival materials pertaining to the late Hon. M. Dolores Denman and the late Hon. Elizabeth W. Pine.