May 9: Message from Chief Judge DiFiore
Video with Closed-Captioning | Transcript of the Chief Judge's Message

Latest News:
May 10, 2022 - Press Release
New Professional Development Program Targets Non-Judicial Employees, Grades 12-21

May 5, 2022 - Press Release
New Working Group to Study NY Courts' Pandemic-Related Practices, Propose Next Steps
May 2, 2022 - Law Day

March 29, 2022 - Press Release
NY Judicial Commission, Buffalo's PBS Station Launch Online Curriculum Resources on Equal Justice
March 24, 2022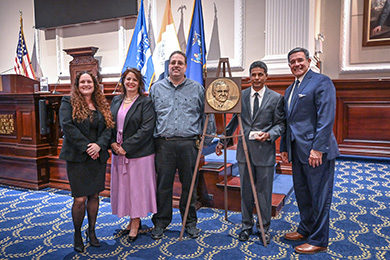 2022 Bernard Botein Award
March 15, 2022
Chief Administrative Judge Lawrence K. Marks has submitted the 2021 Annual Report to the Governor and the Legislature, in accordance with Section 212 of the New York Judiciary Law.
March 14, 2022 - Press Release
Midtown Community Court Launches Mental Health Part
March 03, 2022 - Press Release
Chief Judge, Senate and Assembly Judiciary Chairs Announce Introduction of Constitutional Amendment for Court Reform, Simplification
February 28, 2022 - News Advisory
NY Courts Launch New Online Tool
February 28, 2022 - Press Release
New Co-Chair Named to Franklin H. Williams Judicial Commission

February 16, 2022 - The State of Our Judiciary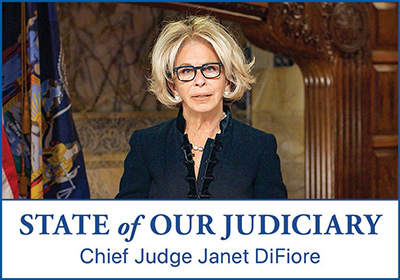 February 16, 2022 - Court Simplification Proposal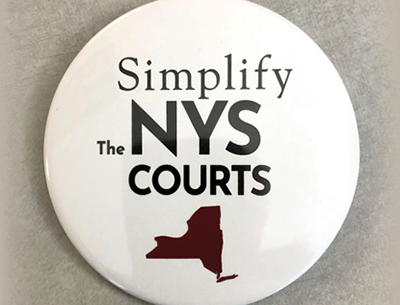 December 28, 2021 - Press Release
Administrative Judge Named to Supreme Court-Civil Term in Manhattan
December 21, 2021
Name/Sex Designation Change-New Forms
December 13, 2021 - Press Release
Chief Judge Names Members to State Commission on Prosecutorial Conduct
December 01, 2021 - Press Release
New Administrative Judge Named in Nassau County
ARCHIVE OF LATEST NEWS/COVID19 CONTENT:
Nov. 2021 to Mar. 2020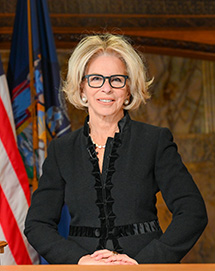 "The New York State Court System provides essential justice services to the people of the State of New York. As we resume in-person operations Statewide to include non-essential matters, all essential functions of the courts remain available to ensure that New Yorkers may access the justice system during this extremely challenging time."
- Chief Judge DiFiore
---
NEW: Credit Card Service Fee, Eff. April 1, 2021
If you have specific questions about your juror service, a case already in court, or you need to start a court case, call: the Coronavirus Telephone Hotline: 833-503-0447.
JUROR SERVICE:
If you have been summoned for juror service see your County's Commissioner of Jurors website for reporting instructions.
---
TEMPORARY ORDERS OF PROTECTION issued in any court of the New York State Unified Court System which were due to expire on or after March 19, 2020 have been extended and are considered still in effect until parties are otherwise notified. If you have had an Order of Protection issued against you and it expired on or after March 19, it is still in effect until you are otherwise notified and you must continue to obey all conditions of that Order .
---
RESCHEDULING CASES:
Parties will be advised of rescheduled Court dates when normal court business resumes.
Questions about the status of a particular case should be made to the court, at telephone numbers listed at the Court Locator. However, please be advised that, during this health emergency, communications may sometimes be difficult.