October 18: Message from Chief Judge DiFiore
Video available with Captioning | Transcript of the Chief Judge's Message

Latest News:
October 13, 2021 - Press Release
Administrative Judge Appointed in Ninth Judicial District
October 7, 2021 - Press Release
New Administrative Judge Named for NYC Family Court
October 1, 2021 - Press Release
New Deputy Chief Administrative Judge Named for NYC Courts
September 29, 2021 - Press Release
New Video Instructs NY Jurors on Hidden Bias
September 22, 2021 - Press Release
New Cayuga County Court Addresses Opioid Crisis
September 21, 2021
Statewide Eviction Filing Data Now Online
September 15, 2021
Digital Archive Documents Experiences of NYS Judges, Staff Amid the Pandemic
September 13, 2021
The Chief Judge's Annual Hearing on Civil Legal Services in New York will be livestreamed, starting at 1:00 p.m.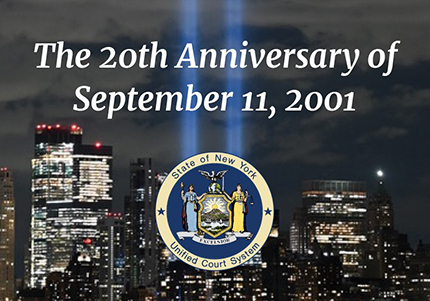 Watch: The Complete 9-11 Ceremony | Transcript of Ceremony "Reflections" Tribute Video | Transcript of Reflections Video
September 08, 2021 - Press Release
Chief Judge Announces Judiciary Civil Legal Services Program Grants
ARCHIVE OF COVID19 CONTENT:
Aug. 2021 to Mar. 2020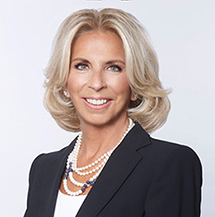 "The New York State Court System provides essential justice services to the people of the State of New York. As we resume in-person operations Statewide to include non-essential matters, all essential functions of the courts remain available to ensure that New Yorkers may access the justice system during this extremely challenging time."
- Chief Judge DiFiore
---
NEW: Credit Card Service Fee, Eff. April 1, 2021
If you have specific questions about your juror service, a case already in court, or you need to start a court case, call: the Coronavirus Telephone Hotline: 833-503-0447.
JUROR SERVICE:
If you have been summoned for juror service see your County's Commissioner of Jurors website for reporting instructions.
---
TEMPORARY ORDERS OF PROTECTION issued in any court of the New York State Unified Court System which were due to expire on or after March 19, 2020 have been extended and are considered still in effect until parties are otherwise notified. If you have had an Order of Protection issued against you and it expired on or after March 19, it is still in effect until you are otherwise notified and you must continue to obey all conditions of that Order .
---
RESCHEDULING CASES:
Parties will be advised of rescheduled Court dates when normal court business resumes.
Questions about the status of a particular case should be made to the court, at telephone numbers listed at the Court Locator. However, please be advised that, during this health emergency, communications may sometimes be difficult.